Sunflower Ukraine - How does the war affect the global market?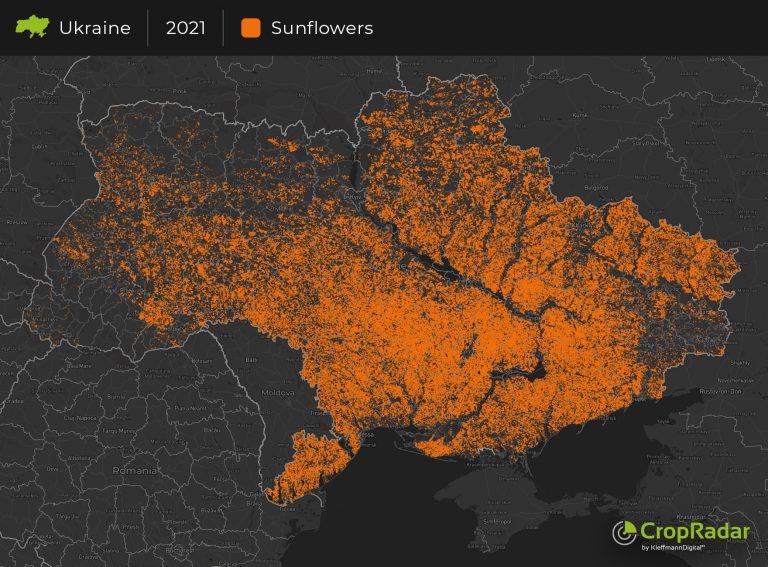 Ukraine is the most important sunflower growing country in the world. What are the consequences of the war for the global market? Kleffmann Digital has been using the satellite-based CropRadar system to measure the cultivation area in Ukraine for several years. 
In the 2021 season, the sunflower area in Ukraine was slightly more than 6.5 million hectares. The most important cultivation region was Dnipropetovsk. In general, sunflower cultivation is more intensive in central and eastern Ukraine, i.e. in the areas particularly affected by the war. The average yield per hectare in the last crop year was 22.7 dt/ha, which added up to more than 14 million tonnes. The total area of the EU 27 in 2021 was 4.5 million ha and the yield was 10.3 million tonnes.
Ukraine is the world's most important sunflower growing country in the world
Ukraine is the most important sunflower producing country in the world in terms of yield. For comparison: In the EU27, the largest cultivation areas are in Romania with about 1.3 million hectares. In many European growing countries, the sowing conditions for winter crops were good – also in Romania, i.e. many areas are already occupied and an expansion of sunflower areas would be at the expense of other summer crops. Realistically, a possible (partial) loss cannot be compensated.
Sowing starts in early April in the south of Ukraine
In the 2021 season, sowing started at the beginning of April in the Odessa region and in the following weeks throughout Ukraine. At present, temperatures in Ukraine are often still in the minus range. The Ukrainian government supports its farmers wherever possible, even in these difficult times. Agricultural employees are being released from military service to ensure the sowing of crops. And farmers are also being helped financially. The hope remains that the coming month can be used for sowing in large parts. We expect first findings on cultivation areas in June after the crop has emerged.
Can Argentina compensate possible dropouts?
Argentina is the 3rd largest sunflower producing country in the world. In season 2020/2021, about 1.4 million hectares were cultivated and the yield was round about 3 million tonnes. The area for this season is currently measured by CropRadar. But the next season – means 2022/2023 – in Argentina starts in August. So there is still some time to deliver enough seeds to Argentina to expand the area under cultivation and thus fill the gap a little bit.