Biomass Module - For a targeted interpretation of the performance of crops over a growing season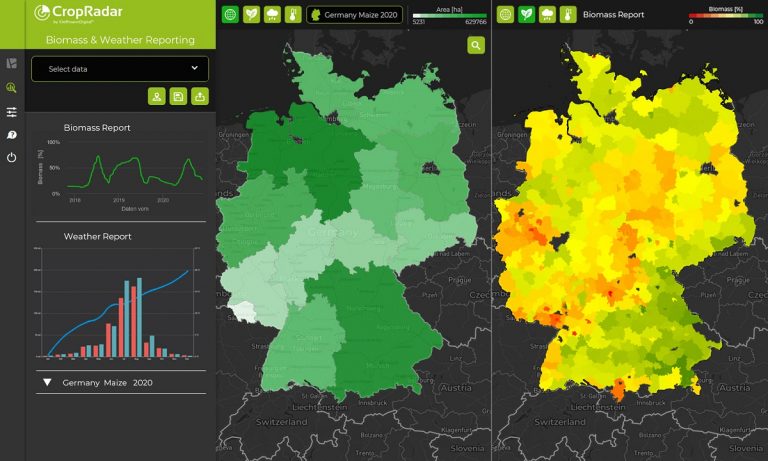 How do I interpret the classification results from the CropRadar Portal? In order to be able to analyse the development of individual crops during a growing season in detail, CropRadar now offers an additional biomass module.
Based on the classification results, the Kleffmann Vegetation Index is calculated, aggregated and regularly updated for each field. The biomass productivity describes the average biomass between two consecutive satellite images. The time units to be analysed can be freely defined.
The spatial interpretation is made possible by the graphical representation as a map in the CropRadar Portal. Thus, spatial differences between biomass productivity are visualised down to postcode level. In combination with the temperature and precipitation data also provided in the portal, a targeted analysis of a crop or variety can be carried out.
On request, Kleffmann Digital also offers the biomass module retroactively from the 2018 crop year.
With the new biomass module, CropRadar offers precise interpretation aids to be able to analyse performance differences of areas on a regional level for crops and varieties in a temporally defined scope. As support for targeted variety recommendations or yield forecasts, an excellent support tool is now available to you.
Are you interested in the biomass module? Then please contact us!