Our International CropRadar Team – Today Ukraine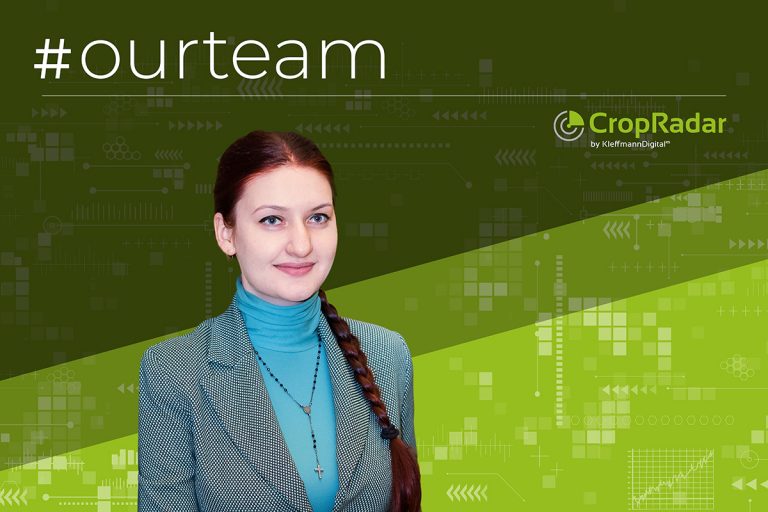 CropRadar combines objective satellite technology with artificial intelligence and many years of expert knowledge. But who are the experts behind the system? Today one of our colleagues in Ukraine introduces herself.
"I am Ganna Mglynets, 29 years old and live in Kyiv, Ukraine. I started working with Kleffmann Group 7 years ago and gathered an extensive knowledge on various research methodologies and performed all stages of project implementation in the area of agricultural market research.
In 2017 I became a part of MyDataPlant team and managed on-sight trainings and demonstrations for farmers. After the spin-off I went with Kleffmann Digital and now I am a part of the CropRadar Classification Team and contribute my deep knowledge of the Ukrainian agricultural market to the team. I am performing recognition of winter and spring crops based on satellite images.
One of the main tasks of the team is to check and improve the output of our Artificial Intelligence approach used to identify arable and special crops worldwide. By combining satellite images in a certain way, we can identify the different crops growing on the fields. This requires a lot of attention and concentration, but it feels rewarding to be able to correct and perform crop classifications in such details.
Besides checking and improving the classification results, we create new training datasets that are fed into the Artificial Intelligence by combining field data that are collected every season and our Kleffmann Digital own crop recognition indices.  Every day I am learning something new from my colleagues and grow personally."